A Message From Our Director
"At the University of Oxford Science Park in Begbroke you are working in and contributing to a unique and innovative science and research-based environment. Academics, researchers and students from Oxford University collaborate closely with research and development businesses, entrepreneurs and spin-out companies on new products, processes and technologies."
Alistair Cory, Director
Oxford University Science Park, Begbroke is the only science park wholly owned and managed by the university; a world-renowned brand whose prestige and excellence in teaching, research and innovation attracts students, academics and researchers from across the world.  Sited in a countryside setting, Oxford University Science Park is more than just a place of work, it is a vibrant community fostering innovation and discovery at the centre of Oxford's physical and life sciences research activity.  A unique environment where science and industry meet.
The Maths, Physics, Life Sciences (MPLS) Division's Begbroke Directorate team are responsible for the commercial, functional and business management of the park on behalf of the university academic, research and commercial clients.  By providing good facilities, well managed buildings, a responsive service and culture of innovation, we aim to promote a positive and productive place to work and succeed.
We have incubated, accelerated, and contributed to the successful growth of multiple high growth R &D businesses from the University of Oxford and Oxfordshire eco-system.
Site News
The University is working with Oxford University Development, a joint venture with Legal & General to provide two new buildings for the site by Q1 2024. One of these is to be a university academic research building of approximately 5000m2 (gross area) in the north east corner of the science park hosting a mixture of academic users and shared facilities. There will also be a commercial R & D building of nearly 7,500m2 (gross area) leased to a major occupier. This will be to the left of the main entrance near the current entry to the science park.
Partners
Here at Begbroke we work with partner organisations across the business, science and education communities, many of whom provide benefits and services to tenants on site....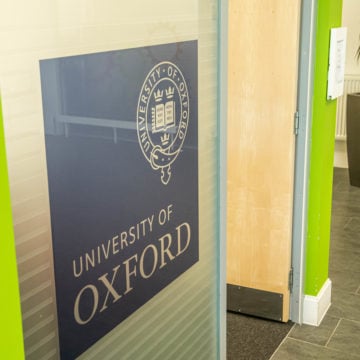 Our Community
There are around 30 companies and over 20 research groups currently at Begbroke. Researchers from the Mathematical, Physical & Life Sciences and Medical Sciences Divisions of...